Melmo Hair Growth for hair loss, men and women 100ml
Regular price

$24.98

Sale price

$17.29
Promote hair growth with this effective leave-in formula, which delivers powerful ingredients to the roots of your hair. perfect for thin or slow-growing hair. siply spray onto the scalp and say hello to thicker, longer, and stronger locks. thanks to our powerful ingredients you will notice growth results.

Acerca de este artículo

SAFE & EFFECTIVE FORMULA- Ameliorate your hair's growth with this effective formula of scalp treatment consisting of caffeine, ginseng, and vitamin B5 which work harmoniously together to create a fast-working hair regrowth treatment. MELMO is an ideal hair growth supplement for thin or slow-growing hair. Simply spray onto the scalp and get thicker, longer, and stronger locks.
PREMIUM HAIR GROWTH SPRAY- Our hair loss treatments for men & women help treat hair loss as it delivers powerful ingredients to the roots of your hair. This hair volumizing spray is a blend of Rice Water, Butylene Glycol, Caffeine, Ginseng Extract, Clover Extract, Panthenol (Vitamin B5), and other effective ingredients which maintain hair density and promote healthy regrowth of hair. The most active ingredient is caffeine that activates mitochondrial regeneration.
IDEAL HAIR GROWTH & REGROWTH- This hair regrowth treatment Spray for women and men is recommended for thin and weak hair as well as hair loss including receding hair. It stimulates and nourishes hair follicles. Just spray this men hair growth spray directly on wet or dry scalp, massage it for 30 seconds, and style hair as usual. MELMO hair volume spray for hair volumizing, thickening, and stronger, long-lasting hair.
EASY APPLICATION FOR UNISEX- We offer exquisite hair growth treatment for both men's and women's hair. It has an easy and hassle-free application. It should be used twice a day (morning & evening) for best results. Simply spray this hair strengthener on dry or wet hairs, scalp, or hair loss area, massage it for minutes, and style your hair for a great appearance. While using hair loss treatment spray, keep your eyes safe. Discontinue use if you feel any irritation.
100% GUARANTEE- We aim for 100% customer satisfaction. We offer an ideal hair growth spray for both men and women. We are highly confident that you will regain your confidence and love the results. We offer this air spray risk-free guarantee. You get what has been promised to you. Get it now!
Beneficios

Studies have shown that 0.2% [caffeine] can have the same clinical effects as the 5% gold standard [minoxidil] with far fewer side effects. It can quickly enter the hair follicle, inhibit the activity of 5-α-reductase, reduce the production of DHT, and thus inhibit androgenetic alopecia. At the same time, we can add camellia leaf extract for you, which can promote the proliferation and differentiation of hair follicle stem cells, activate dermal papilla fibroblasts, and reduce inflammation. As well as [Acetyl Tetrapeptide-3] and [Red Clover Flower Extract], it is helpful for reducing DHT and inflammation, activating stem cells, and more specifically, it can also stimulate the expression of collagen types 4, 7, and 17. Hair growth provides a good microenvironment.

In addition [caffeine] can also activate mitochondrial regeneration, improve blood circulation, and eliminate inflammation. These are all good for scalp health.
Ingredientes

Rice Water, Butylene Glycol, Caffeine, Ginseng Extract, Clover Extract, Camellia Extract, Dextran, PEG-40 Hydrogenated Castor Oil, Glyceryl Caprylate, Hydroxyacetophenone, Phenoxyethanol, Cetrilochloride Ammonium, Fragrance, Acetyl Tetrapeptide-3, Lactic Acid, Panthenol (Vitamin B5).
Como usarlo

¡Spray para el crecimiento del cabello Melmo! Usalo dos veces al día, rocíe directamente sobre el cuero cabelludo húmedo o seco y masajee durante 30 segundos y luego peine el cabello como de costumbre.

Precautions: Evite los ojos y suspenda su uso si nota alguna irritación.
Informacion de Envio

- ENVIO GRATIS...

No EU import duties.
- Ships within 1-2 business days.
- Ships in our fully recyclable and biodegradable signature boxes.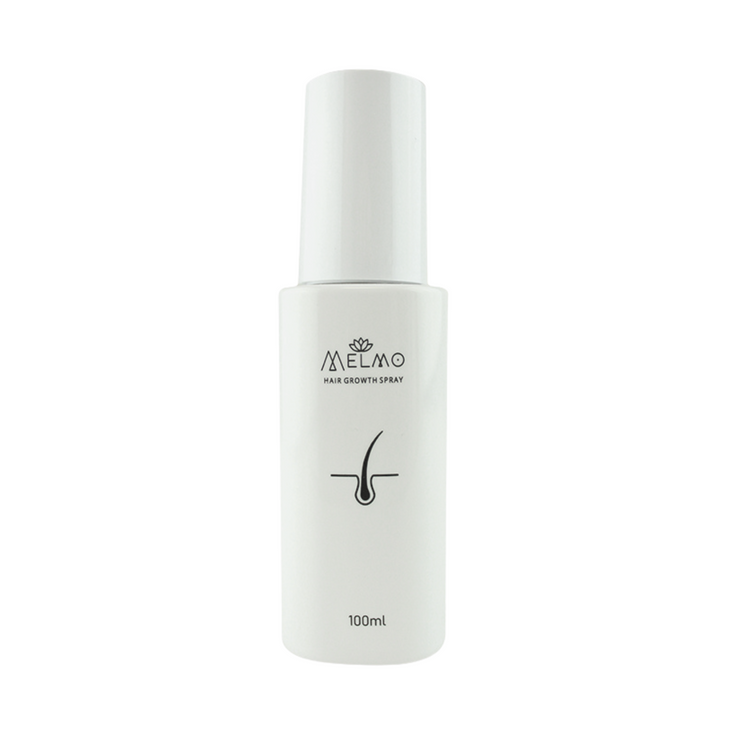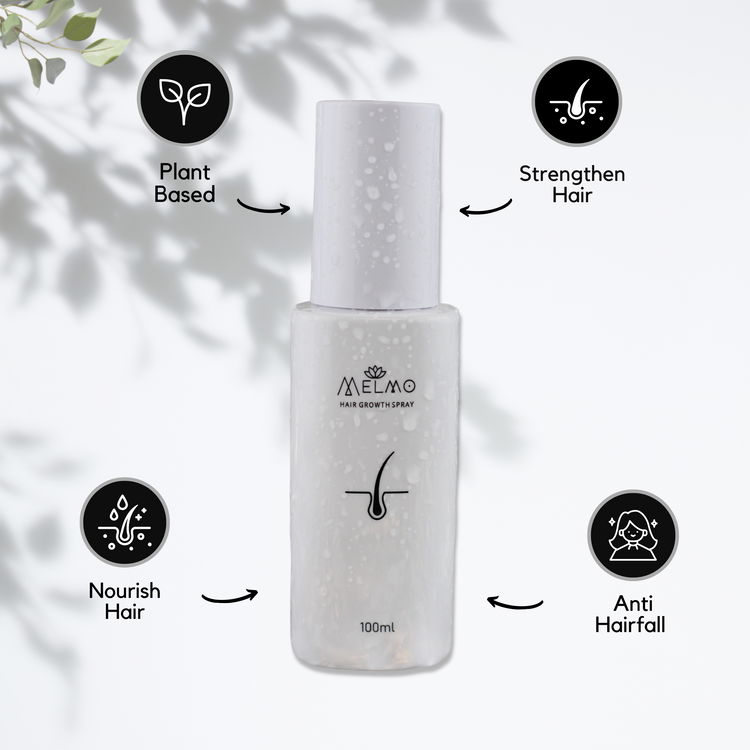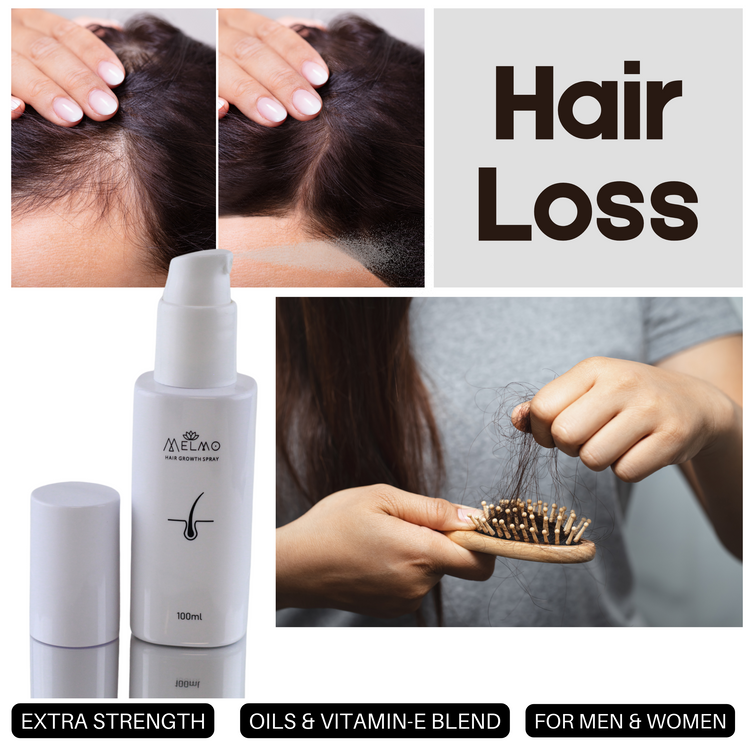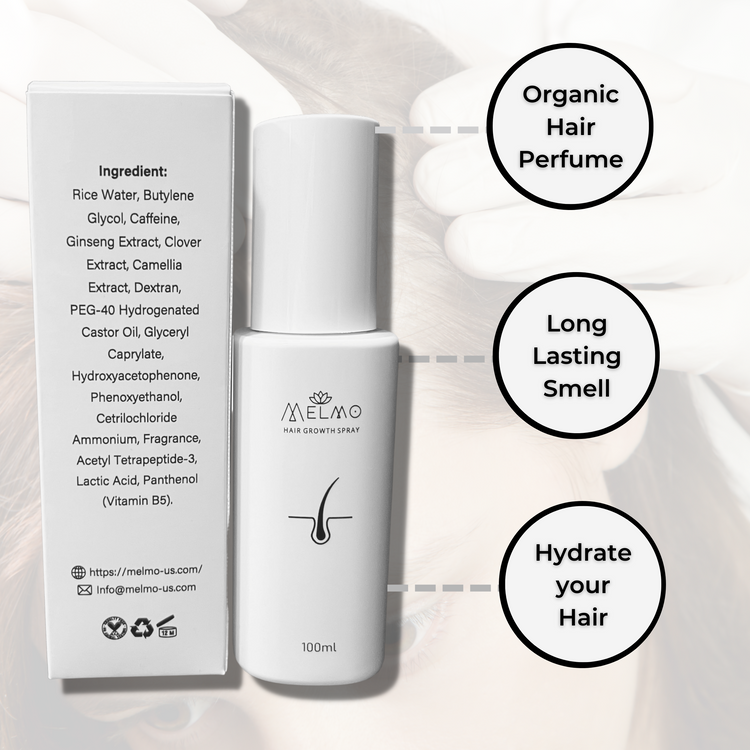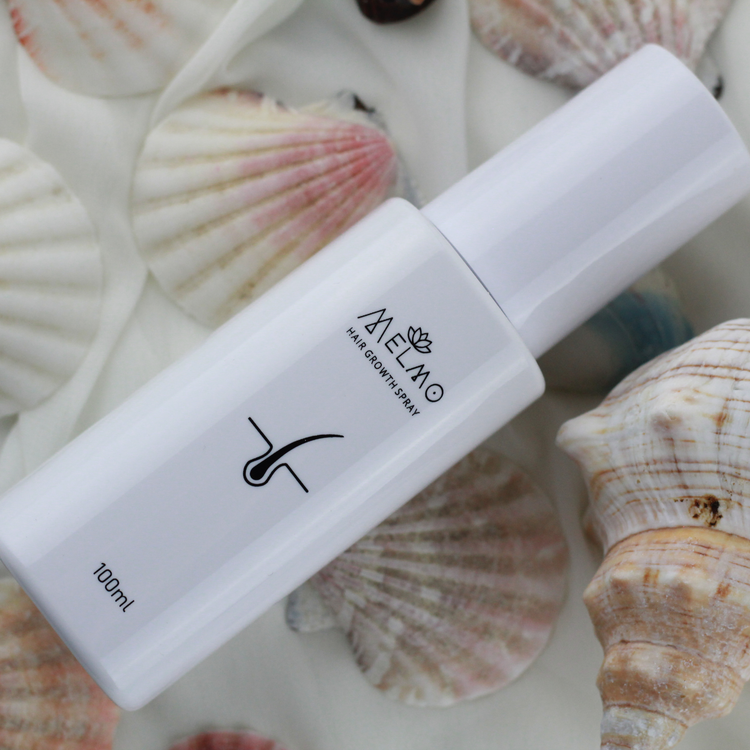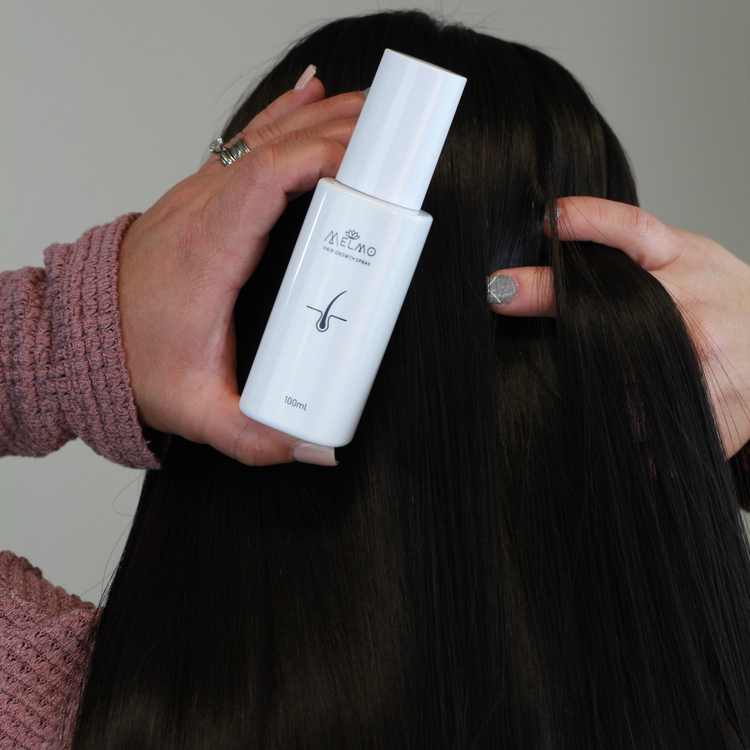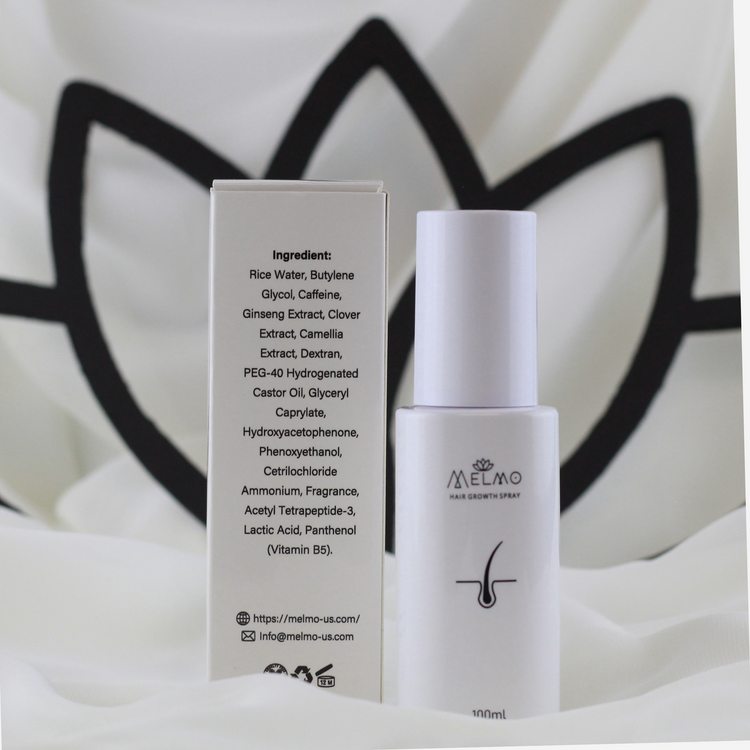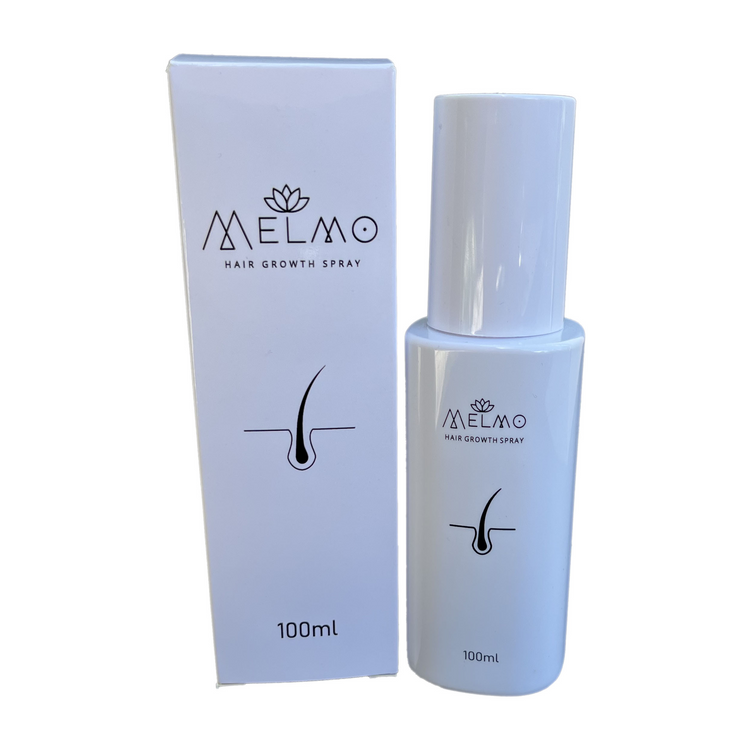 Melmo hair perfueme
El perfume para el cabello huele delicioso es ideal tanto para chicas como para chicos, deja el cabello muy sueave y manejable lo recomiendo el 100%.
Más que todo para nosotras las chicas q hacemos ejercicios todos los día el aplicarlo olerá recién lavado
We are proud to ensure the highest levels of safety, efficacy, and aesthetics.
Image comparison